Welcome to All About Audio
A professional audio reinforcement company specializing in live music, corporate events, bodybuilding, fitness and cheerleading competitions and more.
When it comes to your next production, big or small, great audio can make an unforgettable impression.
If you're looking for a company which provides impeccable quality and service at the right price, then look no further.
We are ALL ABOUT AUDIO.
ALL ABOUT AUDIO is proud to be the Production Consultant for both The NPC Shawn Ray Hawaiian Classic and The NPC Shawn Ray Maui Classic. For info please visit srhawaiianclassic.com and shawnraymaui.com
LIVE PERFORMANCEs
Everything from school assemblies to full-on rock concerts… we are ready to assist. With a deep inventory of analog and digital mixers, a variety of line-array, point-source and monitor speakers, no job is too small or too large. Your audience and performers will bask in the glow of good, clean audio. And since we are always "on time" and always "on point", your special event will be remembered by all for a very long time.
CORPORATE EVENTS
Let us help you with your next corporate event, be it the semi-annual employee appreciation meeting, the company picnic or Holiday Party. We want to take your event to the next level. Great sound will help you get your point across and will serve to enhance the experience for all in attendance. We can also assist you with many other production services such as video presentations, staging, lighting and more.
Special Events
Since 1995 we have been a leading provider of audio services for The National Physique Committee (NPC) and the International Federation of Body Builder's (IFBB), the nation's premier bodybuilding and fitness organizations. We have also created hundreds of one-of-a-kind music performance mixes for many of the world's top competitive bodybuilder's including 8-time Mr. Olympia, Ronnie Coleman.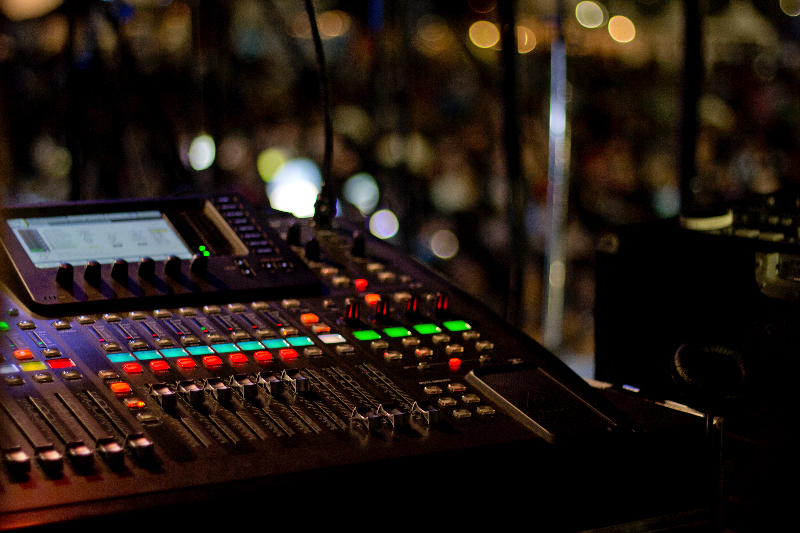 Equipment
Check out the brands of the equipment we use with pride here at All About Audio.
See what some of our customers have to say.
All About Audio has made a huge impact on my student performances. Mr. McAdams has provided amplification for my Chorus concerts (elementary and middle school age students). I could not be more impressed by his professionalism and musicality. His work allows my young students the opportunity to project without damaging their voices, and his DJ-ing works wonders in the transitions. I fully recommend this company for any production.
- ANNE S.
Vocal/Music/Chorus Instructor Maya Angelou French Immersion School
I've had the pleasure of using All About Audio for several events and I must admit, it's refreshing to work with a company with such high standards. They were excellent! The sound was pristine and the lighting was more than I expected! Our production could've been aired on tv, the stage was lit up like an awards show and the sound was cd-quality. We were more than satisfied.
- DON T.
Guitarist, X-Factor, The Band
All About Audio provided sound for our wedding and reception. The setup was clean and unobtrusive to the wedding decor and our guests tell us that they could hear every word spoken during the ceremony… even when we spoke at a near whisper. We had live music at the reception and the sound was full and crystal clear but never too loud. We absolutely made the right choice for our special day when we hired All About Audio.
- CIARA H.
After hearing the quality of sound at one of my friends gigs I decided to give All About Audio a call for my band's next show. First of all, these guys are awesome to work with… on time, personable, knowledgeable and professional. As a musician, you want the best possible sound for your audience but you really need the mix on stage to be perfect as well so that you can perform at your very best. I was blown away by the way they conducted this systematic sound check that provided the best on-stage mix I have ever experienced and the house sound was equally impressive. We now plan to use them for all of our shows. They are fantastic!
- EDDIE A
BODYBUILDING, CLASSIC PHYSIQUE AND WOMEN'S PHYSIQUE competitors should follow the guidelines below for submitting their competition music...
Music selections should be submitted via email to allaboutaudioonline@yahoo.com with the subject
MUSIC, NPC SHAWN RAY HAWAIIAN CLASSIC
Include the following information in the body of the email- YOUR NAME, YOUR DIVISION, YOUR PHONE NUMBER and any questions or comments that you may have.
Preferred file formats are .mp3, .m4a, .aiff but others can be converted for you if received in a timely manner. Please DO NOT SUBMIT audio from YOUTUBE videos (these files are compressed for playback on small devices and will not sound good on the audio system at the event). Also, no movie files such as .mov or .mp4. and DO NOT send links to APPLE MUSIC, SPOTIFY or PANDORA as these are play only links and cannot be downloaded.

Music selections MUST be no longer than 70 seconds.

CLEAN MUSIC ONLY! Vulgar/explicit music is grounds for disqualification!

You will receive a confirmation email or phone call within 24 hours of submission.

IMPORTANT NOTE: Please bring a copy of your music to check-in on a CD, thumb drive or your cell phone as back up even if you have already emailed it to ALL ABOUT AUDIO.

If you have any questions or encounter any problems please contact Steve McAdams at allaboutaudioonline@yahoo.com or 301-919-5956 (East Coast time)

Thank you,

Steven B. McAdams

ALL ABOUT AUDIO

"Awesome sound, Awesome people"

www.allaboutaudioonline.com
301-919-5956
contact
Whether you are a new customer wanting to learn more about our services, or a former client hoping to reconnect, we would love to hear from you! Leave a message below and we will get back to you as soon as we can.
Steve McAdams, President
301-919-5956
Steve.McAdams@allaboutaudioonline.com